Tags : None
01. Introduction
02. Starting a stable
03. Finding what you need
04. Stable diary
05. Finances
06. Horses
07. Jockeys
08. Stable agistment
09. Administrative staff
10. Training
11. Vet services
12. Racing
13. Tracks and weather
14. Regions
15. Continents
16. Class races (leagues)
17. Cup races
18. Stakes races
19. Prestige
20. Breeding
21. Horse Auctions
22. Yearlings
23. Travelling
24. Schedule
a1. Denominations
a2. User forums
a3. Entering a race
a4. Owners Club
a5. Betting
a6. Daily/weekly schedule
a7. The Race!
a8. FAQ Frequently Asked Questions
01. Introduction
Sun 15th Jul 07
Track King is a free online horse racing stable management game in which you compete against stables managed by other users all over the world.
As a Track King, you take on the role of Stable Manager - or maybe even a Stable Owner! (See Owners Club). You buy, sell and breed horses, manage jockeys and invest the stable's money in training and veterinary facilities and stud breeding programs. You select Cup and League race entrants from the horses and jockeys in your stable that best suit the conditions and are in top form, plan your tactics before the next race, decide on what training is needed and much, much more.
You can keep yourself continuously updated on the state of your stable by logging on to the Track King website, reading your race results and checking out the latest horses on the transfer market. You can also give your jockeys orders for upcoming races and tell the trainers how the horses will train during the week.


02. Starting a stable Sun 15th Jul 07
To register to become a Track King, use one of the "Start your own stable" links on the Track King logon page. Remember, you can only manage one stable!.
Firstly, you will need to provide some basic details about yourself, and where you live. It is important to tell you that your details will not be given to anyone else - they're just to help confirm your identity to the staff of Track King. The more information you supply, the faster we can get you started, and the more chance we have of preventing cheats or false applications. If you don't provide much personal information, it is likely that you will be contacted by Track King staff to help confirm that you are a genuine applicant.
Next, you will need to choose a Username and password for the game. Your Username is the name that you (as a Manager) will be known by in the game. You can change your username and password at any time when you are registered, but remember - usernames are unique! Once someone has been given a username, nobody else can have it. Regarding passwords, it is good to use passwords that have letters and numbers in them to make it harder for anyone to hack into your account... but make sure it is a password you can remember!
Finally, after giving your personal and logon details, you will be asked to choose a name for the Stable you will manage. Just like with Usernames, the name of your stable can be changed at a later date, but it must be unique. Your Stable Nationality is where you can show national pride, by choosing the country that you want to represent. The flag of this country will be added to your stable, and every horse that is born in your stable will carry this flag. You will also be asked to provide details of the Continent that your stable is currently based in. This will determine the 'physical' location of your stable, and the time of the day that racing starts. Your Continent does not have to be the same as your Nationality - for example, it is quite fine to be an Australian stable racing in Europe. (See Continents)
After you have lodged your registration, you can expect an email within 1-48 hours to let you know that your stable has been prepared for you! It's your time to shine!!
After being accepted into the world of Track King, your account will remain open as long as you login at least once every 50 days, or if you are currently a member of the Owners Club. After approximately 3-4 weeks of inactivity, you'll receive an automated Email reminding you that you'll need to return to your stable sometime in order to keep it active. After 50 days of inactivity your stable will be reset, and all your horses placed up for Auction. Of course, you'll be able to return to Track King in the future, but you'll have to register again.


03. Finding what you need
Sun 15th Jul 07
There are quite a few different ways to move around in the Track King web site.
There is a 'Main Menu', which appears at the top of the page, just below the Logo.....you know, the menu that you used to get to this page! This menu gives you quick access to:
Home, where you can see the latest announcements, and racing information in your Continent;
Stables, which is a shortcut back to your own Stable page;
Races, which will take you to the next race to jump at your Local Track (See Tracks and Weather);
Auctions, where you can bid on horses for sale (See Auctions), or purchase stud rights to a stallion (See Breeding);
Forums, where you can chat with other Track Kings in the online community (See (User Forums);
Shop, to purchase Owners Club membership and other Track King goodies (See Owners Club); and
Help, which you used to get here!
When you arrive at a page, you'll (hopefully!) notice that the menus on the right hand side of your page have changed to give you a whole load of choices about the page you are currently viewing. These choices are broken down into a couple of different mini menus:
Page Menu, which offers you things you might like to see or do related to the page you are viewing;
Horses, which will show you the horses that belong to the stable you are viewing. Of course, by default these will be your horses (See Horses);
Jockeys, showing the jockeys currently under contract to the stable in view (See Jockeys);
Races, showing the race fixtures for the Class league being viewed (See Race Classes) and/or the individual races on a particular day (See The Race!);
Forums, giving you access to all of the various Forums in Track King (See (User Forums);
Owners Club features like Guestbooks, Horse and Jockey summaries, and quick race navigations (See Owners Club);
Also, within each page, every horse, jockey, stable, or other name is a link to get more information about that object. Click away!
Objects are also colour coded in Track King, with all Races in Red, all Horses in green, Stables and Jockeys in blue, and Actions and Ratings in yellow/brown. So just waving your mouse over a link or using the 'Tab' key to select it, will hopefully give you a little more information about what sort of object you are looking at.

04. Stable diary
Sun 15th Jul 07
Your stable diary can be accessed from the right-hand Page Menu. It shows a running record of all the actions and events that go on in your stable each day.
This provides a valuable tool to catch up on what has happened since you last visited Track King. The diary shows the latest 50 events by default, but you can use the link at the bottom of the list to view older events (if any exist!). The diary also keeps a record of your activity in the Auctions over the past fortnight, showing you all the bids that you placed or received, and also any times that you were outbid. A canny Track King will use this tool to ensure they stay on top of the latest action!
Your Stable diary is only visible to you - so no other Track Kings can see your secrets of success! It displays the date and time that an event took place, gives you a description of the event, and in some cases provides you a link to the event. Where no link is provided, you might be able to guess what caused the event by looking at the date and time.
Some of the things that might appear in your Stable diary are:
Entering a race - (See The Race! and Entering a Race)
Changes to your agistment - (See Agistment and Finances)
Changes to training - (See Training and Finances)
Changes to your vet - (See Vet services and Finances)
Changes to Admin staff - (See Administrative staff and Finances)
Horse purchases/sales/bidding wars - (See Horse Auctions)
Horse births/stud - (See Breeding)
Jockey contract information - (See Jockeys)
Horse travel arrangements - (See Travelling)
05. Finances Sun 15th Jul 07
There are two types of finances in Track King - your Stable finances and your Personal finances
Stable finances
You need money to run your stable and to house and train your horses. Each week there is a financial update where the monies owed to you are collected and the monies that you are due to pay debited from your account - all transactions that take place during the week are added to the income/expense account shown and the balance figure is updated accordingly.(See Daily/weekly timetable). So when you look at your stables' finances, the 'Carryover balance' is the amount you started the week with, and all income/expenses listed are then the transactions that will be totalled to create the 'carryover balance' for the next week.
The income you receive comes from:
Purses: Purses are the money that you win from doing well in racing. You receive a fixed purse amount for Class races. On top of that, your share of the race purse depends on your finishing position in the race, the higher the better.
Sponsorship: Perform well and keep good relations with your sponsors and it will earn you a higher income.
Facilities: Any unused horse agistment and training facilities can be leased out for public use, earning you income each week. (See Stable Agistment, Administrative staff and Training)
Horse sales: The total income received from any horse sales (less 8% Auction House fees) during the week.
Stud fees: By selling your stallions' services as part of a breeding program, you can earn additional income, again less 8% fees (See Breeding)
Interest received: You can earn interest each week if your bank balance is above zero, the rate of which is determined by your Administration. (See Administrative staff)
The expenses you may have to pay are split into:
Manager wages: As stable manager, you'll receive a weekly wage - with it, you can bet on races to gain prestige for your stable and notoriety for yourself! (See Betting)
Jockey contracts: Good jockeys come at a price, you'll need to pay the wages negotiated in their contract at the time of signing them, and then again at the start of each and every week they are racing for you. If you hire an apprentice to race, you will pay a one-off fee for jockey services after the race. (See Jockeys)
Facilities: This includes the setting up and the maintenance of the stables' training and veterinary facilities, as well as administrative staff costs. (See Stable Agistment, Administrative staff, Vet services and Training)
Auctions/studs: Total fees payable for any horse and yearling purchases and any stud breeding undertaken during the week.
Transport: It costs money to safely transport your jockeys and horses from A to B depending on whether they travelled to another track, region or continent. (See Travelling)
Race fees : This amount includes any race entry stakes payable as well as race establishment costs if you create a Stakes race. (See Owners Club features)
Interest payable: You have to pay overdraft interest each week if your bank balance is below zero. Admin staff can help negotiate a lower interest rate. (See Administrative staff)
There's nothing to keep you from spending your stable's money even if your balance is zero. As stable manager you have access to a line of credit at the bank, but you're going to have to pay some heavy interest on this borrowed money. The bank is prepared to allow you free reign on spending until you reach $100,000 debit - but after that things start to get tight. You'll still be allowed entry into league races, and to hire apprentice jockeys, and to auction your horses, but that's about the extent of it. You won't be able to resize your stable facilities, or purchase any new horses, and signing a new jockey contract is right out! Also, and most importantly, your bank will put a stop on any staff drawing a wage from your stables' funds once a 'closing balance' of -$100k has been registered. This means that your vets and trainers will be unpaid! They're prepared to ride it out for a week due to sheer loyalty to you, but at the start of the second week without pay they will all walk out, leaving you with zero training and vet capacity. The bank will then continue to finance your stable, even if the debt continues to grow, but you'll be without those valuable stable hands.
Should you grow tired of being broke, your Stable Finances page will offer a "Liquidate stable" link for anyone who has closed the week at -$100k. This process is not reversable! If you enter liquidation, your stable will effectively be reset to a 'new' stable, with 4 completely novice horses and minimum sized agistment. You will still be in the same Class as you were before, but you might find it hard to remain competitive!
At the end of every season the sponsors hand out a bonus if your stable has done well enough. Trophies and money are handed out to the top 5 places in each racing Class. How much depends on your place and how high up you are in the league system:
| Class | 1st | 2nd | 3rd | 4th | 5th |
| --- | --- | --- | --- | --- | --- |
| 1 | $1,200,000 | $1,020,000 | $840,000 | $660,000 | $480,000 |
| 2 | $1,000,000 | $850,000 | $700,000 | $550,000 | $400,000 |
| 3 | $800,000 | $680,000 | $560,000 | $440,000 | $320,000 |
| 4 | $600,000 | $510,000 | $420,000 | $330,000 | $240,000 |
| 5 | $400,000 | $340,000 | $280,000 | $220,000 | $160,000 |
| 6 | $200,000 | $170,000 | $140,000 | $110,000 | $80,000 |
Personal finances
Your personal finances are totally separate to your Stable Finances. This money is your personal money, as a manager of a Stable, to use however you see fit.
As you don't have a team of Administrative assistants looking after this money, you won't earn any interest on it - so you may as well spend it! And what better way to spend it than at the track, betting on the horses that you know best?! (See Betting)
Of course, everyone at the local betting agency knows you.

06. Horses Sun 15th Jul 07
Clearly horses are your stable's main asset! You must have a minimum of 4 horses in your stable at all times.
Each horse has attributes and skills that determine their overall racing ability, while there are also some additional factors that will affect their performance in different race situations. They are:
Spirit - A horse's spirit is an important factor in determining how well the horse and jockey 'read each other' during a race. A horse with less spirit is able to be controlled easier and relate better to a jockey than a high-spirited thoroughbred. Spirit also determines how easily your horse gives in to adversity.
Height - The height of a horse largely determines it's stride length and physical presence on the racetrack.
Weight - Some horses weigh more than others, which can affect the performance of the horse on race day. It's probably a bad idea to put a fat jockey on an underweight horse!
Gender - Mares and geldings are a little more predictable than stallions, which may outperform sometimes but at others might just cause nightmares for an untalented jockey! Horses in foal (pregnant) are not eligible to race.
Stride - The physical length of the horse's stride is an important factor when competing against other horses, particularly in races over distance, after all, the longer the stride the less steps a horse will need to take to get to the finish.
Medical condition - The medical condition of the horse affects it's overall abilities to race competitively, and also affects how quickly a horse can recover its' Physical condition. So make sure your vets get your horse properly prepared for the race, otherwise your horse will certainly underperform, or maybe even be scratched!
Physical condition - A horse must be in good physical condition to hold up to the vigours of thoroughbred racing. A horse in poor physical condition probably won't be in winning form, and is more likely to pick up an injury from racing. Physical condition is improved marginally by the vet and more so by some training types, and is reduced by racing, training workouts, and of course racing!
Gate speed - Gate speed determines a horse's ability to get a quick jump out of the gate and subsequently make quick decisions and change direction during the race.
Acceleration - The acceleration of the horse describes how well it can accelerate! Simple as that! Good reactions need good physical skills to complement them.
Muscle tone - One of the most important characteristics, muscle tone helps determine the horses' staying power in a race. A horse with poor muscle tone is likely to tire more quickly.
Stamina - A horse with bad stamina may not be able to maintain its speed and abilities over the length of the race. Stamina becomes more important over longer race distances and on tracks with heavier conditions.
Heart - A fit and healthy horse needs a fit and healthy heart - heart and stamina help determine how long a horse can keep going. Heart also has a 'mystical' quality for some, with suggestions that it provides an extra ability to beat the odds.
Racing styles are a somewhat rare specialty skill determined at birth, sometimes inherited from a parent, or sometimes a quirk of nature. The racing style of a horse sometimes affects it's performance during a race:

Early Sprinter - Slightly faster over the first quarter, but these horses tend to tire more quickly in bad track conditions, unless they have extensive experience.
Fast Finisher - Slightly faster over the final quarter, but a tendency to tire quickly in bad track conditions.
Mud-lark - Loves to run on a wet track - the wetter the better! Dry tracks are a turn-off though, and the horse may underperform.
Natural Champion - Sometimes called a 'Stayer', this horse is born to run the long race.
Stalker - Prefers to come from a few places back during the final quarter, rather than leading the pack.
Breakaway - Prefers to be among the first few runners in the second half of the race, rather than being caught back in the pack.
Unpredictable - This horse can have good or bad patches over the course of a race...it's hard to know what will happen next.
Competitive - Loves close-in racing, this horse doesn't mind tight races and competitive finishes.
Needs Space - Doesn't like to be boxed in or racing in tight packs. Prefers the open spaces to run in.
(See The Race!)
Aside from racing your horses, you'll also need to take care of their training needs and their veterinary care to make sure you always get the most out of them. (See Vet services and Training). As you'll notice, a horses' week can get very busy! Be sure to keep an eye on the Upcoming Schedule for each of your horses, to make sure that they don't have any conflicts. Where there is a conflict in schedule, the horse will simply take the earliest thing that you have told it to do and go with it - even if that means missing out on training or missing out on a race, or even missing travel arrangements to another track. Of course, if a horse misses it's travel, it might not make the next race or get home in time for training etc.....so it can have quite a big flow-on effect. Any Schedule conflicts are highlighted in the horses' Upcoming Schedule, so they shouldn't be hard to notice!
It's also possible to rename your 2yo horses, if you have the urge. The number of credits you have to rename a horse is displayed on the 'Home' page, and credits can be bought through the Shop, or are provided free with purchases of Owners Club (See Owners Club). To rename a horse, simply select the 2yo that you want to rename, and then select the Renam a Horse link from the Page Menu. A member of staff from Track King will approve or reject the renaming as appropriate within 24-48 hours at most!
Last of all, the life and death of your horses. Each season, on the first day of the season, horses will be considered as one year older - regardless of their actual date of birth. As a general rule, horses may only race from the age of 3yo up to and including 10yo. After 10yo, stallions may continue to be used for Stud until the age of 12yo. After age 12yo (or age 10yo for geldings or mares), there isn't really anything useful for your horses to do around your stable. It might break your heart to part with these virtual champions, but in the interest of your stable it should probably be done. You can either organise to give them away, or if you are an Owners Club member you can retire them into the Hall of Fame, so that we can all look back at their stats and achievements. (See Owners Club)

07. Jockeys Fri 02nd Nov 07
Jockeys are the ones responsible for getting the best out of your horse in race. Track King features a form of Artificial Intelligence for the jockeys, allowing them to actually make decisions about how to respond to different situations that they might find themselves in during a race. (See The Race!) It's fair to say that the horses are just the engine, and the jockeys are the drivers. Apprentices, being the dumbest of all jockeys, should probably be prevented from riding in any races that you really want to excel in!
As you might expect, there are good jockeys and not-as-good jockeys. All of them make decisions to the best of their ability, and sometimes those decisions might be ideal for the horse and race situation. As a general rule, the higher a jockeys' base salary, the higher his potential to make good choices. It's up to you, as an astute Stable Manager, to research the jockeys and find out a bit about them. You can check their career stats to get an idea of what type of track and distance they are most experienced at. Also keep an eye out for their riding style, which shows the things that are most important to that jockey. Watching some of their old races to see how they handled different race situations is often handy to see whether you think they might be suitable for your horses. (See Owners Club)
When jockeys use their Artificial Intelligence to make decisions, they consider the following things - although each jockey has their own ideas about which are most important (as shown in their Racing Style).
Their current width on the track (ie how far from the inside rail);
Their immediate traffic, both ahead and behind;
The horses they can see just ahead of them;
Their current placing;
Their current speed
The distance of the race that has elapsed;
Their ability to handle/direct the horse;
The amount of energy they think the horse has left;
Their own personality - aggressive or passive
Their morale, and their personal assessment of the horse.
Of course, in a race, they jockey does also consider your wishes. You have the opportunity to enter Race Instructions for each of your horses, which will be followed (to a degree!) by every jockey that rides the horse - even apprentices.
To sign a new jockey to your stable, follow the link named 'Hire a jockey' from the right-hand Page Menu of any 'Stable' page. You will then be able to search the pool of jockeys in Track King, and select from those that would be prepared to race for your Stable (based on the prestige of your stable!), and from there it's just a matter of picking the one you want and organising a contract. Negotiate carefully - you can only complete one set of jockey negotiations every 24 hours - whether you managed to successfully sign the jockey or not. Keep an eye on the status of negotiations with the jockey to get an idea how far you can drive their wage down! As a general rule, a jockey with more prestige than your stable are more likely to treat you harshly.
While a jockey is signed to your stable, they are not available to race for any other stable. On completion of their contract, they will go On Holiday for an indeterminate period - maybe a day, maybe a week....maybe longer?! When they leave your stable, if they're inclined to race with you again, they'll give you an idea of when they intend to return. The better their morale at the termination of the contract, the more likely that they'll make sure they are back on time! You'll have to keep an eye on the market to be sure to get the jockey you are after.
Jockeys will only compete in races of their own Class - which means that generally the jockeys available to the "Upper Classes" (sic!) are better than those of the lower. There will be some exceptions - can you find a bargain?! The exception to Jockey Classes are Apprentices. Every track in the world of Track King has a swag of unknown Apprentice jockeys who are just dying to get a ride. They don't charge much comparatively....but then they don't have any experience, and only limited ability! If for any reason one of your contracted jockeys can't make it to a race, an apprentice will step in to ride for you, and will charge you for his services at the end of the day.
Jockeys like to feel good about themselves, and their morale influences how well they will communicate with the horse during a race - and how much attention they pay when you give race instructions for your horse! To keep a jockey feeling good, it's important to allow them many opportunities to race. It's also important to give them a good chance at winning. If you keep putting them on the old gray mare that ain't what she used to be...well....the jockey isn't likely to stay happy long! Jockey morale will start at a higher level if you don't drive their wage down at the start of a contract - it costs more but it could well be worth it?


08. Stable agistment
Sun 15th Jul 07
You pay agistment fees each week to house and feed your stable of horses, and pay one-off expenses to make room for more horses (or to remove a stall). Your stable can physically hold up to 30 stalls. Increasing or reducing the capacity of your stables enables you to house and feed more/less horses successfully. It is possible to crowd more horses into your stable than there are stalls, however this is almost certainly going to lead to a massive loss of your horses' condition. After all, if you want a high-performance horse you'll need to provide for it in a professional manner!
The costs to maintain the stall and to increase/reduce capacity is determined by your stable's racing class - the higher your class, the higher the cost to resize and maintain these facilities. Top class horses need top class care!
Any usused stalls in the stable (as determined at Financial updates on Sunday evening) will be leased to the public, earning you income. The amount of stalls you can lease to the public is determined by your stable's prestige level and the number of administrative assistants on your staff at the time. The better your prestige, the more demand there will be to agist with you. The more administrative assistants you have the better your staff will be able to cope with collecting payments for these services. (See Administrative staff)


09. Administrative staff Sun 15th Jul 07
Administrative assistants manage the office at your stable, taking care of some of the day-to-day financial aspects of owning a stable. If you have many debts or many funds available, you can hire an administrative assistant to reduce your interest rates, or find the best investment for your bank account. Administrative assistants can be found on the 'Stable facilities and training' page.
Administrative assistant functions include:
increasing interest received for positive bank balance;
decreasing interest payable for negative bank balance (overdraft);
affecting capacity and public leasing of agistment stalls;
affecting capacity and public leasing of training facilities;
helping with general facilities expenses by getting you the best price;
reducing travel costs by getting you the cheapest deals;
keeping up good relations with your sponsors;
You'll need to pay a one-time fee to hire or fire Administrative assistants. On top of this, they are paid a wage each week - the amount adminsitrative assistants demand to hire/fire, and also for their weekly services and is determined by your racing class level.

10. Training Sun 15th Jul 07
Training happens once a week for each stable - the day and time of the trainer visit is determined by your racing class. (See Daily/Weekly timetable). The next available training session for your stable is shown on the 'Stable facilities and training' page, within the Trainer section.
To train a horse, first you must have Training capacity available. You can do this by hiring a trainer (an hour at a time) to come and work with your stable on the 'Stable facilities and training' page. Any training hours that you do not use during the week may potentially be sold on (possibly at a profit!) to the public, with the amount of hours that can be sold depending on the number of Administrative assistants you have employed. (See Administrative assistants)
Once you have training capacity to suit your needs, you can begin to Schedule the training of your horse. Pick a training type for any horses that you want to train, assign a trainer for however many hours that you require, and then apply the training. If this has been successful, a confirmation message will be displayed to tell you when the training will take place, and the training will be entered into the horses' Upcoming Schedule. Your horse will continue with this training program each week until you change it, unless your horse misses a training session due to a Schedule conflict. Of course, the horse will be busy training from the start of training time, for however many hours you have asked it to train. Make sure that training doesn't interfere with any other commitments!
Your trainer/s flatly refuses to travel - probably because of how difficult it is to move the training equipment from one location to another?! Whatever the reason, for a training session to happen your horse will need to be located at your stable at the appointed training time. You can double check that everything is OK by looking at the Upcoming Schedule for that horse. Schedule conflicts will be highlighted so you shouldn't miss any that may appear.
Different training activities will have different outcomes for your horse, but one thing is for certain - it takes time and effort to see the changes in your horse. Practice makes perfect! Trainers often have more trouble training highly skilled horses, so it will take more time with the trainer to see the results of training on your champion thoroughbred than it will with your young unskilled prodigy. No matter the skill of the horse, the longer the horse spends training, the more the horse loses interest. Short sharp training sessions are more effective (hour for hour) than long drawn out sessions...
Following is a quick description of the training types available, and how they affect your horse:
Beach gallops - A refreshing gallop for the horse on the sand, helps stamina and heart and works off a few pounds too!
Beach walks - A relaxing walk along the seaside. Sea air is good for the soul and condition, but it's not really good for the muscles?
Conditioning - A medium workout used to 'harden' a horse. Good for stamina and putting on some muscle weight, and being a medium workout it doesn't take too much out of the horse.
Cross country - Some good positive exercise that builds body stats, although it's fairly taxing. Horses take small steps going over obstacles though...
Pampering - Sometimes, you just wanna spoil your horse! Massively good for recuperation, but not really the sort of training a true champion needs!
Short sprints - A medium workout that is aimed at helping your horse reach its' maximum speed as quickly as possible
Starting stalls - A whole load of work in the gates might help your horse to explode from the gates. All this standing waiting for the bell is taxing for the heart though!
Swimming - A really heavy workout that will really get the blood rushing and the muscles aching. It takes a lot out of the horse though
Time trials - This gives the horse practice over race distance. It's tiring, but it certainly helps them learn how to handle a race of that length.
Trackwork - distance - A long run on the track. Not as tiring as swimming but not as effective either.
Trackwork - speed - Some time spent at the track focussing on maximising a horses' top speed.
Walking trail - Time to have a day out with the horse. Has restorative effects for the horse, and some minor impacts on physical stats.
11. Vet services Sun 15th Jul 07 Just like Trainers, Vets operate on a schedule. They work 5 days a week, taking Mondays and Fridays off so they don't get in the way of Training. (See Daily/Weekly timetable)
Vets are useful to help speed up the natural recovery process, helping your horses regain their physical and medical condition after a big race or a taxing training session.
Again, just like Trainers, before you can give your horses the veterinary attention they need, you'll need to first have some spare Vet capacity. You can hire Vet Services (an hour at a time) to come and work with your stable on the 'Stable facilities and training' page. Unlike trainers though, any excess time that the Vet has while at your stable will not be sold on for use by the public - so only hire the vet for as many hours as you think you will need!
Once you have some spare vet capacity, it can be assigned in blocks of one hour to your horses on the 'Stable facilities and training' page. This page will also show you the time and date that the vet is going to come visiting. As you might expect, this time and date is also recorded in the horses' Upcoming Schedule. Once a vet schedule has been successfully arranged, the vet will continue to come and see your horse/s for the same amount of time each day in the vets' working week - not stopping until you either make changes to the schedule, or until the horse fails to keep a veterinary appointment.
Remember that the horse will be busy with the vet for however many hours you have assigned, so be sure the horse isn't booked with the vet for so long that it misses out on something else like Race Preparation!

12. Racing
Sun 15th Jul 07
Horse racing is an exhilarating sport, and it's no different here at Track King!
There are 3 different types of races within the game:
Class (League) races (See Class Races)
Cup Races (See Cup races)
Stakes races (See Stakes races)
These contests are held over varying distances, categorised as follows:
Sprint : up to and including 1250m
Short : 1251m to 1500m
Middle : 1501m to 1800m
Long : 1801m to 2200m
Epic : more than 2200m
League races will always consist of one race of each distance type, while Stakes and Cup races may cover longer distances. The exact race distance changes regularly to ensure all horses have the same opportunity to prosper over time. It's up to you to select the right combination of race distance, jockey, horse, race instructions and opposition to give your horse the best shot at winning! (See Entering a Race)
Some races will have eligibility criteria in place that your horse will need to meet, such as gender or age restrictions, or that the parent stable must be racing to an appropriate local Track or Region. You'll need to check the eligibility criteria of the race you want to enter to be sure. Class races will only impose loose restrictions - namely that you must be part of that Racing Class at that Track, and that the horse must be between 3 and 10 years old.
In order for your horse to be able to race, it must of course be located at the appropriate track at the designated race time, and it must also have completed 3 hours of Race Preparation immediately prior to the race. Never fear, this preparation will be booked in for you automatically when you enter a race - you just need to make sure your horse can get there!
At the end of the Race Meet (See Continents), prestige, purses, and Class league placings are all updated. Horses placed in the Top 5 will share the purse, while prestige is awarded to the top 7 runners - of course, the higher you place the better the reward!


13. Tracks and weather Sun 15th Jul 07
Your Local track is the home of your stable (and many others), and is the venue for your weekly Class league races. (See Race Classes) Up to 150 human-owned stables can call each track home, with 25 stables competing against one another in each of the 6 classes of racing at each track. On entering Track King as a Stable Manager, your stable will have been assigned to a Local track. At the end of each 11-week racing season, and prior to the start of the next racing season, you'll have the opportunity to relocate to any other Local track in the world that has an opening at your Class level. Of course, there will be a cost associated with the move, as well as needing to re-establish your Training and Veterinary staff.
The track is also home to a resident tipster, an virtual equine expert who doesn't mind a bet or two - sometimes he'll offer his choices for race favouritism in the betting stakes. Check each individual race page before the event to check his early mail! Maybe he knows something you don't?
Weather
Each track has it's own weather, which is updated every day. On each Track page you can see what the weather is like today, and a weather forecast for the next 7 days. As we all know, the weather forecast isn't always entirely accurate, but they get it right quite often. The weather isn't selected completely at random every day. It's connected to what the weather was like the day before. If there was rain today, there's a greater probability of rain tomorrow as well, compared to other types of weather.
The chances are exactly the same for rain, sunshine or anything else regardless of which track you choose. No tracks have better weather than others. No track is better than any other track in this regard.
The weather affects track conditions, which in turn affects the performance of your horses and jockeys on race day. To be a truly successful Track King, you'll need to be able to predict how the track will respond to the coming weather so that you can be sure to enter your horse into races where the track condition is likely to suit your steed.
Track condition
As most horse trainers and keen punters know, a stretch of hot sunny weather or a spell of rainy days can really affect the condition of a racetrack. The horse racing tracks in the game reflect this, with subtle changes the result from the weather conditions.
Some horses perform better in heavy going, some horses prefer faster track conditions. Some horse skills are more useful on heavier or drier tracks, and some qualities of a horse are consumed faster in heavier conditions than on good and fast tracks.
Track conditions (from fastest to slowest)
Fast
Good
Dead
Slow
Heavy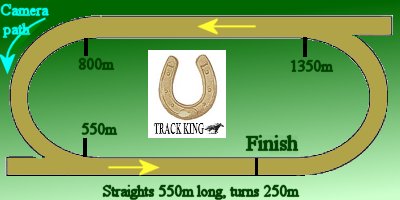 14. Regions
Sun 15th Jul 07
Each continent within Track King contains one or more regions.
There is no difference between the regions within a continent - they are all equal and experience similar racing conditions over time, as well as similar Cup competitions. Additional regions may be added to a continent if the existing regions have reached their capacity.
Regional tracks are only used for Cup racing. Each Regional track is the 'hub' for 15 Local tracks, with each Local track hosting 150 stables that participate throughout the 6 different racing classes. (See Tracks and weather)
Although the other stable managers at your local track are your direct opponents, don't forget that you may sometimes need to band together as track representatives to compete against other tracks - or even other regions or continents - in very prestigious Cup competitions. After all, when a horse makes a name for itself on the big stage, the punters and media are bound to want to know about the place it came from.


15. Continents Sun 15th Jul 07
There are five (5) continents represented in Track King.
The main difference between the continents within the game is the cutoff and start/end times of races:
Please note: Times given below are based on gametime. Check the clock in the Track King header.
Australia
1:00 - Cutoff for race instructions/scratchings in Australia
2:00 - Raceday start for Australia
4:30 - Raceday finish for Australia

Asia
4:30 - Cutoff for race instructions/scratchings in Asia
5:30 - Raceday start for Asia
8:00 - Raceday finish for Asia

Europe
9:00 - Raceday start for Europe
11:30 - Raceday finish for Europe

Africa
11:30 - Cutoff for race instructions/scratchings in Africa
12:30 - Raceday start for Africa
15:00 - Raceday finish for Africa

America (Nth & Sth)
15:00 - Cutoff for race instructions/scratchings in America
16:00 - Raceday start for America
18:30 - Raceday finish for America
Your horses are able to travel to other continents to participate in Stakes and Cup races, however there is a small transport cost associated. (See Travelling)
If racing times in another continent are more convenient for you, you are free to move your stable to any local track in that continent that has a vacancy. Moves can be made during the break between the end of the 11 week Class racing season and the start of the next Class racing season. (See Tracks and weather)


16. Class races (leagues) Wed 17th Oct 07
There are 6 classes of racing in Track King - from the dizzying heights of Class 1 racing down to the less glamourous gallopers of Class 6.
Your stable's racing class represents your racing 'league' at your local track, and the group of direct opponents you'll be racing against to get promoted to the class above. In Class league races, you will only compete against other stables located at your track in the same racing class as your stable. Your stable can occassionally race against stables in a higher/lower class, but only in Stakes and Cup races.
Class league races are held during the week, depending on which racing class your stable is in:
Class 1 : race on Tuesday
Class 2 : race on Tuesday
Class 3 : race on Wednesday
Class 4 : race on Wednesday
Class 5 : race on Thursday
Class 6 : race on Thursday
Race entrants (horses and jockeys) must be nominated before 23:00 on the day prior to the race. You may withdraw (scratch) your horse from a race voluntarily up to 1hr prior to the start of the racing in that continent. (See Continents)
There are 25 stables per racing class at each track, competing over the course of 11 Race Days in a fixed 3-month season. The seasons in Track King happen within the following months, with the first week of racing starting from the first Monday of the month:
January to March
April to June
July to September
October to December
Week 1 of racing within each Class will begin from the first Monday of the opening month. For example, in the January to March season of 2008, the first Class 1 Race Day will be on Tuesday the 8th of January, as the first Monday of the month was on the 7th of January.
For each of the 11 weeks of the season, you will be offered the opportunity to enter into two of the four Class League races (one for each of the 'common' distance categories) for your Race Class at your Local Track. These invitations will be presented to you on your Stable page in the section titled 'Races you should register for'. Alternatively, you can browse the future Race Meets and enter from there. However you do it, don't leave it too late to enter, as your choices of which race to enter will become more limited as other horses enter. Class League races are restricted to a maximum of 15 horses in the field.
On completion of each Class League race meet all runners will receive a payment for competing, and points will be awarded to the horses that competed based on their finishing order. These points are then tallied up to work out the stables' standing within the Class League. Points will be awarded as follows, with horses that are on equal points being ranked by the number of 1st place finishes, then 2nd places and so on, down to the number of races competed:
1st place - 10 points;
2nd place - 8 points;
3rd place - 7 points;
4th place - 6 points;
5th place - 5 points;
6th place - 4 points;
7th place - 3 points;
8th place - 2 points;
Lower placed finisher - 1 point.
At the end of the 11 week Class League season, the top 5 stables of each Class (except Class 1!) will be invited to promote to a higher racing class where prestige, race purses, and often stakes are higher and the competition is tougher. If this offer is not accepted within 5 days of the season end, then the offer to promote will be withdrawn. So, if you have an unsuccessful racing season and finish in the bottom five positions of your League, don't despair! There's always a chance that the people racing in the Class below you might not take up the offer to promote, and you'll hang on to your prestige!


17. Cup races Sun 15th Jul 07
PLEASE NOTE: This style of racing is due for implementation in December 2008
Cup races are more prestigious than other races within Track King, as entry is via invitation only! If you are qualified for a forthcoming Cup race, the invitation will appear on your Stable page, and any races that you are qualified for will become visible when you enter your horse into a race. (See Entering a Race)
There are a variety of different Cup competitions that are run throughout the course of a season. Some of the more regular Cup styles are:
Open Invitational Cups - everyone is able to enter!
Stables that were promoted/relegated through the same Class barrier (stables that moved from 4 to 5 competing against stables that moved from 5 to 4 in one Cup)
Stables that finished top 10 in their class
Stables that have won Cup competitions within the past 2 seasons
Class-based Cup competitions against other stables in your region and continent
Corporate sponsored Cups, sponsored by 'real life' companies or people (See Corporate Sponsorship in Track King)
Cup races are only held at Regional tracks (See Regions), but in many cases all Regional tracks across the world will play host to an equivalent Cup - some being more prestigious than others, and some offering a larger race purse, or demanding higher stakes to enter. Check out the description of any Cups you are invited to - there may be a good alternative away from your Regional track.
Cup races are generally held on weekends - Saturday and Sunday - throughout the racing season. Race entrants (horses and jockeys) must be nominated by 23:00 on the day prior to the race time. You may withdraw (scratch) your horse from a race voluntarily up to 1hr prior to the start of the racing in that continent. (See Continents)


18. Stakes races Sun 15th Jul 07
Stakes races are 'friendly' races, created by other Track Kings like yourself. You can use these races to hone your horse's skills or to test your horses against those from other stables in a little bit of friendly competition. They're not as prestigious, but the racing is just as exciting and you may get to learn more about your horse and jockey, your local track and your league competitors under certain track and race conditions. And of course, there's the purse!
You can create your own Stakes races by putting up the Purse (See Owners Club), or enter races created by others. Ther's no limit to the amount of Stakes races you can sponsor, and you're able to have them run at any Racetrack around the world. For each Stakes race you sponsor, you'll receive 15 Invitations to issue to whichever Stables you want. You might give them all to one stable, or share them around...or maybe even not invite anyone at all! The choice is yours - but once you've sent an Invitation, you can't take it back!
Each Stakes race is open to a maximum of 25 runners, and exactly 48 hours before race time all remaining Gates will be made available for entry to the general public - so if you get an invitation, be sure to respond in enough time to guarantee your place. This might seem a bit inconvenient, but it does help to ensure fairly competed races for Stables and Punters alike.
Stakes racing occurs on Mondays and Fridays during the racing season. Race entrants (horses and jockeys) must be nominated by 23:00 on the day prior to the race time. You may withdraw (scratch) your horse from a race voluntarily up to 1hr prior to the start of the racing in that continent. (See Continents)


19. Prestige Sun 15th Jul 07
Prestige equates to your stable's overall 'score' in Track King, an indicator of the success you've had as a stable manager and sometimes gambler! Prestige can make your facilities more attractive for public lease, can open doorways into higher stake (and purse!) Cup racing, and help persuade better jockeys to sign with your stable.
You can gain prestige to a greater or lesser extent by:
winning races
placing in races
promoting to next racing class (or lose prestige by demoting!)
participating/winning races away from your Local Track
being a successful gambler
20. Breeding Wed 22nd Aug 07
Horses are (well, in all the cases I know of anyway!) the result of breeding. As is the case with most things living, they inherit traits from their parents, which in horse circles are called their Sire (father) and their Dam (mother). Any horse aged 4years and older is eligible to enter the realm of parenthood. Of course, sometimes their characteristics are not directly inherited...sort of a quirk of nature. And don't forget that sometimes a parents genes are 'dominant', so their traits and styles are the ones that are more likely to be passed on to all of their offspring. Without a degree in biology and access to a good lab, the only way to know if a good horse is genetically dominant (and therefore a good choice to be a parent) is to check all of its' offspring - looking at the prospective parents' history eh?
In Track King, one of the best ways to start on the right hoof is to find a good stallion, set him up with a good mare....do a little bit of Cupids work for him...set the mood with some candlelight and maybe a little red wine...and voila! You have a foal! This whole process is not guaranteed to breed a future champion, it just gives you a better chance at a good youngster. After this big occasion, Sire is likely to be a little tired, and Dam, well, she'll be out of action for 2-3 weeks as the new life grows within. The healthier the mare at the time of birth, the better headstart that the new foal will have in life. Similarly, ensuring that you have a vet (or more?) on the payroll at the time of the birth will help the new foal be in as good health as possible.
Now here's where the mystery comes about. Horses in the Track King world seem to have invented some sort of magical growth formula for their young. After their incredibly short pregnancy, the foal emerges from the Dam and *pooof*! It's suddenly 2 years old! That's probably a good thing, because horses can't race in Class League Races in Track King until they are 3 years old...so you won't have to wait too long to try out your new little prodigy on the track!
This wondrous new foal will be the property of the stable that owns the Dam at the time of birth. As the expectant owner of a new foal, be sure that you have room in your stable for the new baby, or you'll overcrowd your horses! (See Agistment).
So if you are the owner of a stallion that has the characteristics and the racing history to make it a successful super stud, you can advertise its' services in the Stud Auctions and maybe turn a profit! (See Horse Auctions)


21. Horse Auctions Sun 15th Jul 07
The Auction House is one of the main areas that a successful Track King will keep an eye on! Auctions come in two types: Stud and Sales. In both types of Auctions, the principle is the same - a horse is placed up for Auction for a period of exactly 3 days, during which time anyone (with enough money!) can place a bid. On completion of the auction, the highest bid wins.
During an auction, each bid must be at least $1,000 higher than the last, or a 2% increase on the price (whichever is the greater). If a bid is placed within the last 5 minutes of the Auction, the Auction end-time will be extended by 5 minutes from the time of the bid. This is to ensure that there is always a chance for a return bid! Each bid you place/receive will also be registered in your Stable Diary page (See Stable Diary) to give you a convenient way of tracking the progress.
Within 15 minutes of completion of the Auction, ownership or stud rights will be transferred to the winning bidder, and money will change hands automatically. The Auction house will take an 8% cut of the final sale price as commission for their work - but if there is no sale there is no charge.
When placing a horse up for Auction, you will be asked to state a minimum price, also known as a 'reserve'. This establishes the lowest bid that may be placed by any prospective buyer - but beware, set the reserve too high and you might not get any bids! The maximum reserve for your Auction is established by the Auction Officials based on an assessment of your horse, but this is often an over-estimation of the horses' value so it may be wise to check the market and decide what your horse is worth.
Stud Auctions
If you purchase stud rights to a horse, you will have 7 days from the completion of the Auction in which to service your mare (See Breeding). After this 7 day period, the rights will expire!
From the completion of the Stud Auction through to the expiry of the 7 day period (or until the rights have been used by the buyer), the owner of the Stable will be unable to Sell the horse or to give it away.

22. Yearlings
Sun 15th Jul 07
Each week, you'll have the opportunity to attend yearling sales - hoping to find that young gem that you can nurture and train into a genuine champion! You can visit at any time you have the money and the urge, as long as it has been 7 full days since your last search. Also, it should be mentioned that although these horses are "yearlings", in the world of Track King horses are 'born' as a 2 year old.
So, when it's time to seach for a (two)-yearling, you firstly select which of the 15 Local tracks you want to scour to find the best yearling you can. No matter how many tracks you travel to, you'll only bring home the best one you could find - but the more places you travel to the better the chance of a skilful foal.
As with everything, there is a small cost involved to travel to each track which must be paid before you can head off for your search. And of course, you must have spare room in your stable to agist this horse! (See Stable agistment). This page also contains an Owners Club feature (See Owners Club)


23. Travelling Sun 15th Jul 07
Although all of your Class League racing will take place at your home track, sometimes you'll feel the urge to hit the road with horses and jockeys, and experience racing at other tracks. This might be for competing in a Cup race at your Regional Track (or a more distant Regional track!), or for participating in a Stakes race against opponents from other locations, or even just to give a horse or jockey more experience under given track conditions.
You can organise travel in one of two ways - either by selecting the Horse or Jockey and then using the "Schedule and Transport" link in the Page Menu, or by finding a race/track that you want to visit and then using the "Arrange travel to this track" link in the Page Menu.
Depending on your destination, travel time and costs will vary. The travel page will provide you with a way to get a quote for your travel cost and travel time.
Travel can only be booked for 'tomorrow' or up to 14 days in the future. You may also cancel travel in the same period. Cancelling travel for more than 72 hours in the future will refund 2/3 of the travel cost. If the travel is any closer than the 72 hours then no refunds will be given.


24. Schedule Mon 17th Sep 07
Everybody's gotta be somewhere sometime, yeah? The same applies in Track King! And luckily, in Track King, each of your Jockeys and Horses keeps a complete diary of their planned movements. Well, maybe the Horses get some help from stable hands....either that or they've taken English Literacy classes at a local school. But that's not important. The important thing is that the Schedule exists, and it's a very useful tool to plan things.
The schedule for each Horse or Jockey can be found on the Horse or Jockey's personal page. It shows you all of the things that they have got coming up, starting from right now - races, preparation, travel all appear from the moment they have been booked. Training and Vet activities will always show at least the next activity, and on some occasions will show the next two. A more detailed version of the Schedule can then be accessed from the Page Menu, under the heading "Schedule and Transport".
Sometimes - and hopefully not too often! - you'll notice that a schedule shows a conflict. That is, an item had a dark red background with an exclamation mark next to the reason for the conflict. A little bit of thought and you should be able to resolve the conflict, either by cancelling one of the activities, or by arranging travel prior to the activity to ensure that the horse or jockey are in the correct location.
Each night, an automatic Scheduler comes through every diary and checks the activities that are planned for the coming 24 hours. The Scheduler will remove any activities that have a conflict due to start time (ie. the horse or jockey is not ready to commence a new activity because they are still doing something else), or due to location (ie. the horse or jockey are not in the correct location to start the activity). Any Training or Veterinary Services activities that have not been in conflict with another activity will be automatically booked to repeat themselves on the next available Vet or Training day, unless the new date would cause a conflict.
The Schedules for your Horses and Jockeys are a vitally important part of Track King, especially if you plan on competing at other locations. It is worth checking in on everyone each time you logon, just to be sure that everything is going to plan.


a1. Denominations Sun 15th Jul 07
The following are descriptions of the ratings scales used in Track King. Rather than come back to this page every time you need to check the scale, you can always click on the rating itself - that will bring up a window that shows you where that value sits in the relevant scale.
Skills/prestige rating scale
Dire
Awful
Miserable
Underdone
Ordinary
Middling
Moderate
Adequate
Acceptable
Satisfactory
Reasonable
Admirable
Excellent
Grand
Tremendous
Marvelous
Majestic
Spectacular
Imposing
Awe-inspiring
Medical/physical condition ratings
Incapacitated
Debilitated
Exhausted
Wasted
Drained
Spent
Weary
Adequate
Fresh
Vigorous
Track conditions (from fastest to slowest)
Fast
Good
Dead
Slow
Heavy
Race distances (from shortest to longest)
Sprint(up to 1250m)
Short (1251m to 1500m)
Medium (1501m to 1800m)
Long (1801m to 2200m)
Epic (over 2200m)

a2. User forums Sun 15th Jul 07
The Forums are the main place that all Track Kings can come to chat. Everyone is welcome to join, sharing views and opinions on all sorts of topics, whether that be bragging about your latest champion horse or race victory, lamenting over the race that got away or a massive loss on a sure thing, or just talking about your favourite past-time outside of Track King.
There are two different types of forum - Public forums, which are the ones tied to Tracks/Continents...and of course the Global Forum - and there are Private forums. (See Owners Club). The heading in the top left of the Forum Page will remind you which type of Forum you are currently looking at.
By default, you will remain subscribed to the Global Forum, to your Continent's Forum, to your Regional Track's Forum, and also to your Local Track's Forum. Feel free to go snooping on conversations in other Continent or Track Forums, accessible from the menu for that Track of Continent, and if you like the chatter then feel free to subscribe!
When using Public Forums, it is important to remember that you are in public, and that Track Kings come from all age-groups and backgrounds, so be sure to behave appropriately! General code of Forum conduct is:
No swearing or abusive language;
No verbal attacks on any other player
English text only
If you feel offended by the behaviour or language of any other Track King, there is a link from the Help Page Menu and also from the Forum Page Menu to report to Track King staff. Any reports will remain anonymous, and will be dealt with discreetly by staff. The Track King staff have the right to edit or delete any inappropriate comments, as well as to hand out penalties or Forum bans to any Track Kings that refuse to follow the guidelines. Of course, it is sincerely hoped that there will be no need for any penalties - after all, this is jsut a game!
In Private forums, the rules are a little more relaxed. In fact, the codes of conduct within each Private forum is at the discretion of the Forum owner. Each Forum owner has the right to invite or uninvite any other Track King for whatever reason they see fit.


a3. Entering a race Fri 21st Sep 07
The horse race - the main highlights of our Track King week, maybe only matched for excitement by the joy of finding your horse has levelled in another skill! All Class and Cup races require an invitation to compete - invitations will be presented to you on your Stable homepage, and also on your Races homepage. Stakes races are invitation-only at first, to allow the Sponsor time to invite targeted stables, but 48 hours before a Stakes race the remaining 10 or more positions become available to everyone, first in first served!
There are 3 main ways to enter a race:
By invitation: Startpoint - your Stable homepage or your Races homepage.
On your Stable homepage you should notice an area titled 'Important events'. This will show your invitations to Stakes and Cup races, and also any Class League races scheduled within the coming weeks. Similarly, on your Races homepage you will find a section called "Your Race Invitations". This area lists all of your race invitations for the future, in order of when the race is held.
Selecting one of these Invitation links from either of the pages will take you into the "Enter a Race" process with the race, date and track already selected. All that is left for you to do is to select a horse and jockey!
By Race: Startpoint - the Race page
If you go searching around in future races at various tracks, any races that you are eligible to enter will offer you a link to 'Enter this Race' underneath all of the race details. Following this link will also enter the Enter a Race process with Track, Race and date all selected.
By Horse: Startpoint - one of your horses homepage
When looking at any of your horses homepages, you should spot a link in the Page Menu saying "Enter this Horse into a race". Following this link will take you into the Enter a Race process with only the horse information pre-selected. From there, you can use the tools provided to scan racetracks for upcoming events. This will only locate races open to you within the coming few weeks.

You may elect to withdraw from races aytime up to the cutoff time for races in that Continent (See Daily Timetable), but be aware that you will forfeit any stakes that you have paid to enter the race.


a4. Owners Club Tue 31st Jul 07
Track King is FREE to play for all players, and there are no penalties for and Stables that do not pay to play the game. One of the most important things in the world of Track King is the community. However, should you wish to purchase Owners Club, several bonus features will be made available to you to enhance your gaming experience. None of these features are necessary, but they will add a little colour and extra 'flavour' to the game.
Most of the features that are made available by purchasing Owners Club are visible in the menu's, even when you are an unpaid Track King. Some of the main features made available to Owners Club members are
Access to the newest & best version of Race Vision
Customised silks for your jockeys
A logo for your stable
One or more free credits to rename your 2yo horses
Summary pages for your horse and jockeys
Bookmarks for up to 50 objects like Track Kings, Stables, Horses, Races, Jockeys and so on
A guestbook for your stable
A blog for your stable
Access to create and join Private Forums
A tool to search for coming races that meet your search criteria
Ability to create Stakes Races
Quick navigation between Race Cards at the same track
Slow-reveal of stats for your Yearlings and Foals.
To purchase Owners Club, navigate to the "Shop" menu in the Main (top) Menu. From there, you'll be able to check out the current price and make a secure online payment. If you still have some Owners Club credit remaining, any additional membership that you purchase will be added to the end-date, so you'll always get what you pay for.
As a BONUS, every time you purchase more than one season of Owners Club, you can nominate one Track King (not yourself!) to receive one FREE week of Owners Club, effective immediately. If the person you nominate already has Owners Club, their membership will be extended by the bonus week.
As a Special Offer during Beta Testing, any purchase of Owners Club will get you an additional 33% for FREE! So if you purchase one season (3 months), you'll receive a bonus month. Purchase a 4-season package and receive a bonus 4 months for your money!
Refund and sales policy - Payments are preferred through Paypal but may also be made via Cheque or money order. Owners Club will be activated immediately upon successful clearance of moneys. If you are not satisfied with Owners Club, you may contact a GM within 3 days of the purchase with a full description of why you are dissatisfied, and request a refund. Fair consideration will be given to your request based on the circumstances, and money refunded at the discretion of Track King.


a5. Betting Sun 15th Jul 07
PLEASE NOTE: This feature is due for implementation mid-late November 2007.
Although your stable is prohibited from placing a bet on a race, there's nothing to stop you as Manager/Owner of your stable from having a flutter. After all, that's what your stable pays you wages for eh?
Odds in Track King are totalisator odds, which means that the amount bet by other Track Kings on each horse is what drives the final price - these odds are not any form of prediction by the game itself.
When you place a bet, you may bet on several different outcomes:
Win - Placing a bet on the horse being outright winner
Place - A bet on the horse finishing 1st, 2nd or 3rd. Usually pays at a lower rate than the win odds
Quinella - Picking the first and second placed horses in any order
Trifecta - Picking the 1st, 2nd and 3rd placings in any order
Winning bets are paid within 15 minutes of completion of the race. If the horse you bet on is scratched, then your wager will be refunded in full when bet payouts are made.
Of course, there's a certain notoreity from being a big punter. A large win can increase your reputation - and hence bring prestige to your Stable. Beware though....a big loss can have the opposite effects!


a6. Daily/weekly schedule Sun 15th Jul 07
Daily timetable
0:00 - Scheduler & weather updates
1:00 - cutoff for instructions/scratchings - Australia
2:00 - Raceday start for Australia
4:30 - Raceday finish for Australia
4:30 - cutoff for instructions/scratchings - Asia
5:30 - Raceday start for Asia
8:00 - Raceday finish for Asia
8:00 - cutoff for instructions/scratchings - Europe
9:00 - Raceday start for Europe
11:30 - Raceday finish for Europe
11:30 - cutoff for instructions/scratchings - Africa
12:30 - Raceday start for Africa
15:00 - Raceday finish for Africa
15:00 - cutoff for instructions/scratchings - America
16:00 - Raceday start for America
18:30 - Raceday finish for America
20:00 - Training updates (Mon classes 1,2&3 or Fri classes 4,5&6)
21:00 - Vet updates (all days except Mon & Fri)
23:30 - Health updates for all horses (except Sunday)
Weekly timetable
Monday - Week start. Financial updates, Bots enter races, Stakes Racing, Class 1-3 training, health updates
Tuesday - Class 1&2 League Racing, Vets, health updates
Wednesday - Class 3&4 League Racing, Vets, health updates
Thursday - Class 5&6 League Racing, Vets, health updates
Friday - Stakes Racing, Class 4-6 Training, health updates, Foals are born
Saturday - Cup Racing, health updates
Sunday - Cup racing, next round Cup invitations


a7. The Race! Mon 22nd Oct 07
Ok...so the big day is here - your horse is about to race. But what happens now?!
Firstly, in order to compete, your horse needs to:
Have completed 3 hours of Race Preparation. This will be booked automatically when you enter a race. Be sure that nothing prevents this race preparation or else your horse will be scratched!; AND
Be located at the correct racetrack prior to the start of race preparation. Check the horses' current location and schedule.
Assuming that your horse got to the track on time and has prepared for the race adequately, then it will be eligible to run.
Jockeys, too, need to make sure that they're located at the correct track prior to the race, however they don't need time to prepare or recover - they're quite happy to back up race after race if you need them to - as long as the race start times are more than 15 minutes apart - they need time to freshen up and maybe ponce around with the other jockeys between races! If you've assigned a jockey to a race and they can't make it, never fear, an apprentice will be on hand to take the ride (you may just regret that!)
At the start of the race, each horse is 'assessed' in terms of their condition, their stats, and their ability to race in the given race conditions. This is used to determine a few factors for the horses, which includes some measurements that can loosely be called 'Energy', 'Willpower' and 'Staying power'. The horse and jockey are also compared to determine how much the horse will 'resist' the jockey during the race
And there's the bell! The horses bolt out of the gate - their gate speed and acceleration and the instructions of their jockey and owners all playing an important part in the jump. From then on, it's all a matter of how well they can last the distance. How fast will they expend their energy? Can they continue to push on if they hit 'empty'? Are the horse and jockey suited to the conditions? Will the jockey time a run nicely to preserve the horse until it really counts? Will the jockey run the horse into the ground, or can they finish the race well and leave the horse in reasonable condition? All jockeys (besides apprentices!) use Artificial Intelligence to respond to the situations they find themselves in during a race, so keep a watchful eye - maybe this jockey isn't what you're after?
After the race, horse and jockey go their separate ways. Horses will find themselves a little depleted and out of condition, and will probably need the loving attention of a good vet or trainer (or a spell from racing) to get back into shape. At the end of the racing day, horses and jockeys alike will receive updates to their form, experience, and morale.
And at this point, a good owner takes time to assess the results. Check the Form Guide/Race Report for the race to see what the jockey and trainers thought of the performance. Check the quarterly times to try and decide where things went wrong (or right!) - was it a result of the jockeys skill, the horses abilities, the race conditions, strength of the field, badly planned race instructions, or a combination of all of these?! If you're a member of the Owners Club, (see Owners Club) then Race Vision might be a useful tool to get more detail on what happened. Race Vision is available to non-Owners Club members too, but may not be as 'pretty' as the one provided for Owners Club members.
Most importantly though, you've had a nice day out at the track and learned something about your horse and jockey. Or even better....maybe you won a big fat race purse!! Good luck!


a8. FAQ Frequently Asked Questions Tue 16th Oct 07
This section is intended as a 'quick reference guide', particularly for new Track Kings.
What is a Local Track?
A Local Track is the place where your stable is based. It hosts 150 stables, it has its' own unique Forum (See User Forums), its' own weather and track conditions, and its' own resident tipster.

More importantly, the Local Track is the home of your main weekly competition - the Class League. You compete one day a week in Class Races (See Class racing), aiming to beat your local opponents and promote to a higher class in the following season.

There are 6 Classes at each Local Track, with 25 stables to each Class. It is possible to relocate to a new Local Track during the break between seasons, and it is possible to travel to any other Local Tracks to compete for Stakes and Cup events.

What is a Region?
Within each continent, there are one or more 'Regions'. A Region has a Regional Track (the track where Cup races and other special events will be held) that is not home to any stables at all.

Each Regional Track is supported by 15 Local Tracks, each of which has 150 stables. A Region has its' own unique User Forum, weather and track conditions, and resident tipster. It is possible to travel to any other Regional Track in the world to compete in selected Cup events (See Cup races).

OK,OK...I understand all that - but what do I do first?
Have a look around. Don't click on anything that says it will cost you money until you're sure that it's actually what you want to do! Building your stable up will involve a bit of planning and some steady growth. The bank will allow you to go to $100,000 debit before they start forcing you to tighten the belt - but once that happens, it could take weeks of slow recovery before you're able to splash out again!

Get to know your horses - check out their stats....and think about how they might best be used in a race.(See Horses, The Race). Now you're probably ready to contemplate spending money on facilities and training (See Training,Vet), and also to look around for some races to enter, the most obvious candidate being your next Class League race (See Entering a Race). Good luck!

How do I travel?
You can organise for your horses or jockeys to travel to any Local or Regional Track in the world for a small fee. To book travel, you may either
1/ Locate the track that you wish to travel to, and select "Arrange transport to this track" from the Page Menu; or
2/ View the horse or jockey that will be travelling, and select "Schedule and Transport" from the Page Menu.

You cannot book or cancel any travel that commences on the current day. Any travel cancelled more than 72 hours in advance will refund 90% of the travel cost.

When travel has been booked, it will appear in the schedule of the jockey or horse (See Schedule). Don't forget that each horse or jockey will need to be brought home after each trip, otherwise they will stay where you told them to go! While your horses are away from home they won't get any Vet or Trainer attention, so it is important to plan your travel carefully.

What is my horse/jockey doing next?
Each horse and jockey keep their own personal schedule. You will find it on each of the horse or jockey pages. It shows what time each different task will be started, and the location that it will happen in. If there is a clash in the timetable, it will be highlighted to indicate what the problem is.

You can find even more detailed information about the Schedule on the "Schedule and Transport" page. On this page you can also cancel any future activities.

What do the staff in my facilities do?
Your stable has several different kinds of staff:
- Vets - help your horses medical and physical conditions improve, and help with births (See Breeding, Vet services);
- Trainers - Undertake training activities with your horse to improve various stats and abilities. Services may also be sold at a profit (See Training);
- Admin Staff - Involved in almost all financial operations of your stable, including (but not only) leasing of agistment and training services, and interest rates (See Admin staff).

What are Owners Club Features?
Track King is free to play. However, there are some features available to you at a small quarterly/yearly cost, designed to improve your gaming experience.

These features are such as bookmarks, customised stable logo and silks, a stable blog, access to Private Forums, summary pages of horses and jockeys, the ability to rename your foals and create Stakes races, and of course, unlimited access to Race Vision which allows you to watch every race that has ever been run in the world of Track King. (See Owners Club).

I'm having trouble with Race Vision
There's a few possible causes. Firstly, do you have the 'Flash' plugin installed on your computer? You can test this by looking at a Race page. If you can't see the movie clip, then you don't have Flash installed. Try visiting Macromedia's website and downloading the latest version.

Still not working, or you already had Flash installed? It is possible that you have a firewall in place that is stopping the Race Vision from downloading the race data. If that's the case, you're probably not ever seeing the green "Race" button appear in Race Vision. Try making www.trackking.org into an 'allowed site', and then restarting your browser.

Still not working? Have you tried using a different internet browser? Firefox is highly recommended (Get Firefox), but don't forget to get the Flash plugin too!

Still having problems? One last try, particularly good for Internet Explorer 6 and 7.

Close all open programs
Download the Flash uninstaller - (link)
Run the Flash uninstaller that you just downloaded
Download the Flash standalone installer - (link) for Internet Explorer
Right click on the standalone installer that you just downloaded, and select "Run as Administrator". This is important.
Come back to Track King and try watching another race

If none of these work, feel free to log a bug report to request further assistance.