Horse Racing Fantasy
Features
This game is truly unique. The outcome of each race is determined by over 1000 factors utilizing over 100,000 lines of code. Factors include the horses' speed and stamina, the racetrack and its condition, the race pace, the trip traveled by the horse during the race, post position, race distance, racing luck and many more factors. Horses even change lanes, get bumped, get blocked, and horses on the outside lose ground on curves.
Did you ever notice how Silver Charm and Buckpasser would ease up when they get to the lead too soon? Or how front running horses do well when they get an easy lead, but fold in the stretch if the pace is hotly contested? They do the same thing in Horse Racing Fantasy. Each horse's attributes are based on our diligent research of past performances as found in the American Racing Manuals, Daily Racing Forms and the Daily Racing Form's recent book entitled "Champions". Dozens of random factors ensure that no two races are alike, just as in real horse racing.
Horse Racing Fantasy is four games in one & a great handicapping tool:
In the Jockey Game you are the jockey for one of the horses. You must assess your competition, judge the pace of the race, decide when to hold back, move inside, move outside and go for the lead. You will be challenged by various tracks, race distances and the computer intelligence which guides the other horses. We get the most comments on the Jockey game - horse fans just love it!!
Joe Talamo, one of California's leading jockeys, cheers as he wins a race playing our Jockey Game.
You can choose from custom-built races - you can build your own races and select the conditions - or, you can be the jockey in an upcoming major stake race with the actual real contenders. With 9 camera angles to choose from, you'll be able to examine and enjoy the race from every possible view. You control the speed and position of your horse. This is truly an exciting and breath-taking game to play. Soon, you will also have the ability to play in tournaments against other competitors and compete for top prizes that include opportunitites to meet some of the top jockeys and trainers in the world. In our Jockey Game, you will be given hints by world-renown jockeys on how to judge your competitors and how to ride your horse while the game is being played. To top it off, you're playing with full screen, 3-D, unbelievable graphics that make you feel like you're actually riding the horse.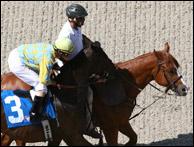 In the Trainer Game you schedule workouts for your horse, select races to enter, and give strategy instructions to your jockey. Your objective is to train your horse to perform to its highest potential. Can you imagine the satisfying experience of training a champion thoroughbred!? This game is really popular with the most avid horse racing fans.
Doug O'Neill, California's leading race horse trainer, shown with his millionaire champion Lava Man.
This game allows you to understand what trainers go through in a day-to-day routine. You'll be training world-renown champions with an eye toward some of the most important horse racing events out there. After your training is done, you'll be entering your horses and watching them race through our full-screen, 3-D, eye-popping graphics. With over 10 camera angles to use, you'll be able to enjoy and analyze the races from every possible view. Our Trainer Game allows you to choose what horse you want to train and what events you want to enter. Be careful - don't over-train or over-race your horse. He will be prone to fatigue and injury if you do. You will learn how to scope out the competition and what races to avoid so you can potentially avoid horses you cannot beat.
The object of our training game is simple - train your horses effectively, place them in races where they can win and earn the most amount of money for your owners. In our soon-to-be-released version, our Trainer Game will allow you to compete with literally thousands of other fans in real tournaments for real prizes that include the opportunity to meet some of the top jockeys and trainers in the world. You will be on the edge of your seat every time you're watching one of your horses race. A truly exciting game!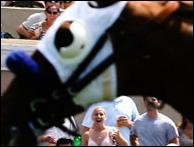 In the Betting Game you can make Win, Place, Show, Exacta, Trifecta and Superfecta bets. Our computer keeps records on bets and winnings for an unlimited number of players. Set up your own races or select from 470 stake races already set up. Select from hundreds of great champion horses, over 100 dirt tracks and turf courses. You build your own races, then review the past performance lines of those races and place your bets. Our Betting Game is great Saturday night entertainment for the entire family.
Don't sit around playing Monopoly™, which is boring and slow. Set up races and have each participant place their wagers and away they go! You'll have fun for hours and hours at a time. You'll be cheering for your horses as they come down the stretch while you watch these brilliant, 3-D, full-screen graphics. Customers have told us that some of the most exciting dinner parties they ever had were due to our Betting and Spectator Games.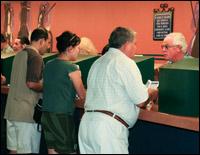 For the sophisticated horse fan, we even allow you to set up your own races, assign racing instructions to the jockeys, control the post positions of the horses, assign the saddle weights, number of entries and many other factors. Serious horse fans absolutely love this aspect of the Betting Game. You will soon have the ability to compete against other players in real tournaments for real prizes. We will be offering tournaments where individuals will be able to compete against other individuals all over the world. Horse Racing Fantasy will set up pre-established races with specific conditions and provide those races to contestants who will be given a fictitious amount of money to wager in those particular races. Winners of our tournaments will receive great prizes including the opportunity to meet some of the top jockeys and trainers in the world.
Want to enjoy the excitement of and learn more about horse racing? It can be as simple as picking the horse you like and watching the race! It makes for a great party game and family entertainment. More sophisticated fans can build a race with champions from different eras, choose the conditions and watch the race play out with broadcast quality graphics that are out of this world. After the race is over, examine photo finishes, run instant replays and save your favorite races to enjoy again and again.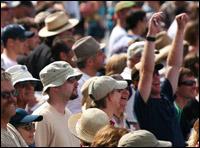 The Spectator Game and The Betting Game go hand-in-hand. Whether you're playing by yourself or with friends and family, just the excitement of setting up the races with world-class champion horses and assigning the racing conditions is heart-pounding and entertaining. This is a one-of-a-kind spectator game and a great way to root for your favorite horses of all time. The Spectator Game brings the excitement of horse racing into your living room 24/7.
Free Bonus!
Don't forget that our Game is used by handicappers
all over the world to simulate upcoming major races.
Subscribers to our Full Version Game will receive additional files that contain upcoming major stake races (e.g., Kentucky Derby, Breeder's Cup, Preakness, Belmont and dozens of other major races taking place around the country). These files will contain the actual participants of these upcoming races in their most recent form. Our subscribers will have the ability to play these races out under various scenarios utilizing real horse data that assists those subscribers in handicapping and predicting the outcome of these events before they occur.